Jake Kaplan got his start in the 1940's with a used tire and no money. He sold it; then sold a few more and eventually picked up a used car. He sold the car and then bought another and thus Jake got his start in the used car business.
In the 1950's Jake raced competitively in Allard's, Alfa Romeo's, Corvette's as well as the Jaguar C-TYPE, D-TYPE and XK120 at some of the most famous historical races such as National Hunter, SCCA's Regional Suffolk County, SCCA's National Westover, Watkins Glen Grand Prix and the Nassau Trophy Race.
In the 1960's Jake decided to focus his business on the British and became one the countries first franchised Jaguar dealers opening his showroom on Elmwood Avenue in Providence. Throughout the 60's, 70's and 80's, Jake Kaplan's offered luxurious amenities such as free pick-up and delivery, loaner cars, and complimentary car washes with service. Long before they were considered normal in the industry and allowing us to become one of the country's best Jaguar dealers.
When Land Rover decided to enter the US market in the 1986, Jake Kaplan's was logically appointed as one of 25 original charter dealers in the country.
In the 1990's, Jake was succeeded in the business by his daughter, Sheree who successfully relocated out of the old dealership on Elmwood Avenue in Providence to our current, luxurious new home on Route 2 in Warwick.
In the early 2000's Sheree was rewarded for her superior performance as a Jaguar and Land Rover dealer in Rhode Island by being granted a new point in Norwood, MA.
Land Rover and Jaguar Norwood opened in 2005 and is now one of the largest Land Rover and Jaguar dealers in the country.
Continuing the family tradition, Sheree's son Eddy has entered the business and is currently heading up the pre-owned department for all locations.  
Most recently, we've grown again by adding another dealership to the company, Subaru of Milford in Milford, New Hampshire.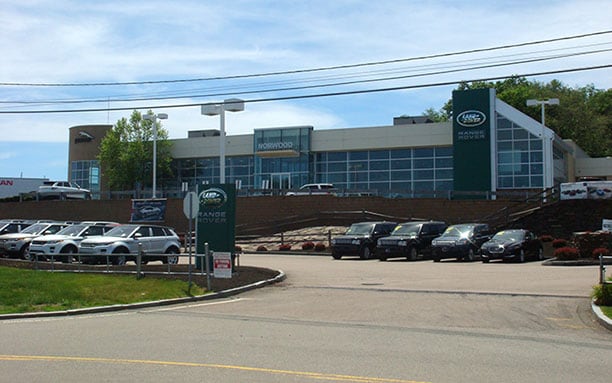 More About Our Greater Boston Jaguar Dealership Serving Norwood, Newton, Quincy and Brookline, And Everywhere in Between
If you're in the market for a new or used car, you've come to the right place. The staff at Jaguar Norwood is committed to helping you find the right vehicle for your needs. What's more, they're also  dedicated to helping you maintain it long after you drive it home for the first time.
So where do we begin? Most like to take a look at the latest Jaguar models to hit our showroom, including the Jaguar XF, XJ, XE, F-TYPE and F-PACE.
Those looking to keep some of that hard-earned money in their pockets, meanwhile, like to consider our lineup used cars as well.
Of course, whether you choose new or used, Jaguar Norwood staffs a team of expert auto finance specialists who can help you find the right loan or lease for your needs. From start to finish, we're by your side to make the buying process as easy as possible.
And after you've purchased your next vehicle, Jaguar Norwood doesn't go anywhere. Instead, we continue to support you with an onsite service department, which operates using only certified Jaguar parts - a combination that's sure to result in many worry-free miles in your vehicle's future.
Whatever your automotive needs may be, Jaguar Norwood is here to serve you. Located at 449 Neponset Street in Norwood, Massachusetts, we're a quick drive away from the surrounding Boston, Newton, Quincy and Brookline areas. Come see what we can do for you today.
---
Jaguar Norwood
Local Jaguar Dealer
Serving
:
Boston, MA
,
Norwood, MA
,
Brookline, MA
,
Quincy, MA
, and
Newton, MA
.
Directions
Local Phone
:
(781) 619-9000

449 Neponset Street,
Norwood
Massachusetts
02062